Sony has come out with a truly special pair of Earbuds. The Wf-1000xm3 is a well-rounded set of earbuds that come with strong noise-canceling, incredible sound, and a wonderful design. If you looking for a pair of Bluetooth earbuds to this is the one and I am gonna show you why.
Let's start with one of its major selling points, noise-canceling. Even at the end of 2020, it is still rare for good noise-canceling Bluetooth earbuds. The main one that is besting the market is the infamous Apple AirPod but other companies have equally mastered it. One of these is Sony with these Bluetooth earbuds. The Wf-1000xm3's allow for quiet and peaceful listening even in noisiest situations. These Bluetooth earbuds are perfect for use on buses, trains, planes, and whatever noisy type of commute you undergo.
Sound is the major component that truly lets one set of earbuds outperform another. The Wf-1000xm3 are in my opinion at par with the AirPods in this category if not even better. Not only do the Wf-1000xm3 sound good but they also feel good. They are comfortable and also have a wonderful, unique design. The appearance offers somewhat of a premium look and feel. Just look at that absolutely clean finish!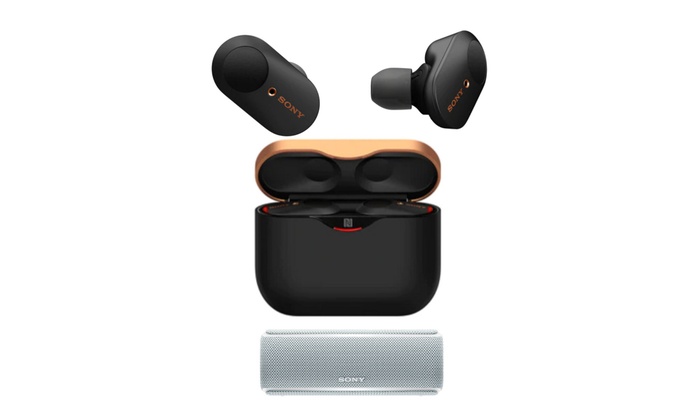 Features are also a major component in picking up a set of Bluetooth Earbuds. In this too Sony's Wf-1000xm3 does not fall short. On the right earbud touchpad, you can control audio playback, access your voice assistant, and answer and end calls. Furthermore, you can flip through three sound modes, noise-canceling mode on, noise-canceling mode off, and a transparency mode that lets ambient sound in. There is also a sensor in the Wf-1000xm3 that lets it know if you have the earbud in your ear or not. If not the earbud automatically pauses the music; put it back in and it resumes playing the music.
Sony's Wf-1000xm3 Bluetooth earbuds have up to 6 hours of battery life with noise canceling on and up to 8 hours with it turned off. Sony's Wf-1000xm3 comes with a portable charging case. It's a little bulky but has a nice premium, metallic feel to it. The charging case provides three full charges for the Bluetooth earbuds. There is also USB C charging which with a 10 min quick charge would provide 90 minutes of battery life. Pretty impressive right, I know I would want that if I were you.
Overall, this is a splendid piece of technology that I find is worth the investment. Not many people know that there is such a pair of Bluetooth earbuds that are on par with the AirPod pros if not surpassing them in certain areas. The Wf-1000xm3's are priced a little below the price of Apple's Airpod Pros. These Bluetooth earbuds are ranged at $230 but are currently on sale for 27% which would make it only $168. This would be a great buy for the upcoming Black Friday sales. If this helped you or you enjoyed the content please like the page and post a comment of what you thought about it. Every comment helps me get feedback so be sure to post one. If you enjoy all my content please follow me so that you can get notifications whenever I post. Thank you guys for your support and I'll catch you guys in the next one. Stay Safe!